Also available in: Español (Spanish) Euskara (Basque)
Translation of the article published in Unibertsitatea.net:
Traducción del artículo publicado en Unibertsitatea.net: "We took as a model Txiotesia and organized a similar session in South America to popularize the work of our students"
Itziar Aretxaga Méndez (Bilbao, 1965) is a researcher at the National Institute of Astrophysics, Optics and Electronics (INAOE) of Mexico. She has been head of the Astrophysics department of INAOE (2011-2016), coordinator of the astronomy section of the Mexican Academy of Sciences (2006-2013) and currently directs the International Schools for Young Astronomers (ISYA) of the International Astronomical Union ( IAU, 2016-). The central theme of her research is the formation and evolution of galaxies. She was a member of the jury of the contest Txiotesia "tweet your thesis in 6 tweets" in its 2nd edition and she says it is an innovative tool for the dissemination of new knowledge. She has sent us these lines to tell us about her experience with Txiotesia.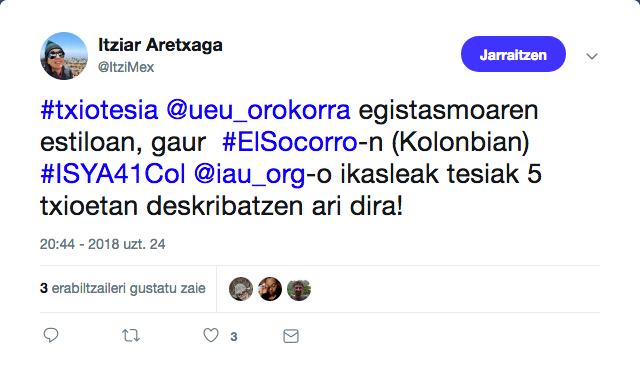 Four years ago I participated as a judge in the Txiotesia contest and it was a really fruitful initiative. 46 researchers participated in that edition and explained their research thesis  from different disciplines, in a simple way. Txiotesia seemed to me a tremendously innovative tool to popularize new knowledge.
Researchers use public money and we have an obligation to explain our findings. In some sciences, dissemination is an activity that has a strong tradition, while in others it has barely begun to produce an understandable language. The incorporation into this habit of young researchers who are doing their thesis is very important.
It was very gratifying to read tweets from different fields in Txiotesia, and very difficult to choose the winners, since the level was so high! Taking science as a theme, a festive atmosphere was created in Twitter under the label #txiotesia. We had everything: science in verse, comics, GIF … communication resources that I had not seen before. I learned a lot by following the contest closely and I use some of those elements now in my tweets.
Since then I have been appointed director of the postgraduate schools of the International Astronomical Union, where we also have workshops of popularization of science. At the last school, in Colombia, Communication professor Ysabel Brizeño and Physics professor Héctor Rago taught a course that combined social networks and the dissemination of science. I told them about Txiotesia, and taking this contest as a model, they proposed to the students to explain their thesis in 5 tweets. We did not do any contest, but 30 students from seven Latin American countries talked about their research in Spanish and Portuguese. The session was very successful and the tweets about the master thesis of one of our students had in the first 24 hours more than 8000 potential readers and 200 likes and retweets.
With this I want to tell the new students and graduates in Basque, to be encouraged and participate in #txiotesia4. There is nothing to lose. The public is eager to know the new advances in knowledge and who better than us to explain them? Take the challenge and take the habit: it is possible to explain a whole thesis in 6 tweets! It is not easy, but it is possible!