Also available in: Español (Spanish) Euskara (Basque)
The theme of the 2023 calendar of the Mexican Association of Underwater Image, AMISUB, is "Looks from the sea" ("Miradas del Mar"). Included in this calendar is a phototograph taken by me of a Porcupinefish (Diodon hystrix), taken in Jardines de la Reina, Cuba in 2016. It illustrates the month of October. It's rare for large puffers to look at us head on, but this time we surprised each other when I was climbing up a wall and it was leaning out of it. The photo is taken in natural light.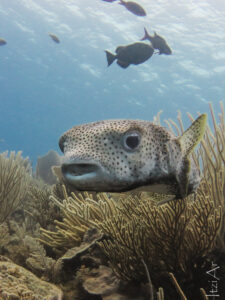 The digital AMISUB calendar will be available on this page when the physical one is sold out. For orders in Mexico, (+52) 5555957832 with Roger Mas.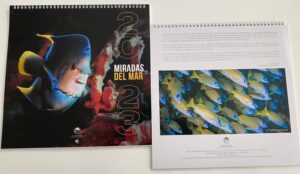 2023 AMISUB Calendar